February 2006 Update:
The Peashooters are back in business!
Was it really four years? We had so much fun reuniting for JP McDermott's recent Buddy Holly tribute show we've decided to dust up the bus and start accepting gigs again! Too many good songs that we need to play again .. and some new ones too!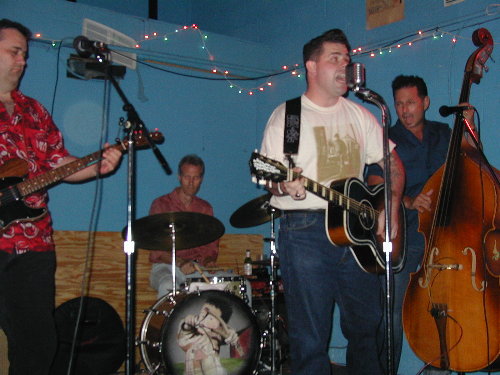 The Peashooters play traditional mid-50s style rockabilly music. This Washington DC area quartet is an exciting band whose members have played with Danny Gatton, Pink n Black, Nils Lofgren, Evan Johns, Out Behind The Barn, Reluctant Playboys, Jumpin' Jupiter, Western Bop, the Old Line Skiffle Combo and others.

Their material includes songs by Elvis, Buddy Holly, Gene Vincent and Bill Haley, as well as some great stuff from lesser known artists like Joe Clay, Curtis Gordon, Glen Glenn, Sid King & the Five Strings, and many Peashooters originals written by Jason Hicks.

The Peashooters have appeared at Half Moon BBQ, Cowboy Cafe, Iota and the Night of 100 Elvises, playing shows with the likes of Deke Dickerson and Cave Catt Sammy. Vinylux Records included a Peashooters original on a recent sampler of upcoming releases. Give a listen. A guaranteed rockin boppin good time!

Jason "Hoss" Hicks....vocals, acoustic guitar
Pedro Sera..............electric guitar
Tom Bowes.............drums
Louie Newmyer.......upright bass

CALENDAR:

Friday April 28, 2006
"Rockin' Roots Revival"
at Chick Hall's Surf Club
with 3 Bands!:
JP McDermott & Western Bop
Ruthie and the Wranglers
The Peashooters

Chick Hall's Surf Club
4711 Kenilworth Avenue
Bladensburg, MD
301-927-6310
9:00 PM
$10.00
A classic honky tonk. great dance floor
& plenty of free parking!!